What are the 5 Basic Flange Face Finishes?
The Five basic Finishes for ANSI B16.5 and ASME B16.47 Flanges are the Stock Finish, Spiral Serrated Finish, Concentric Serrated Finish, Smooth Finish and Cold Water Finish.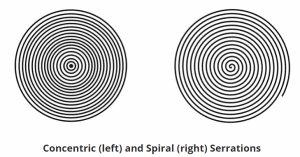 1. The Stock Flange Finish
The Stock Flange Finish is a continuous groove produced by using a 1/16" radius round nosed tool with a feed of 1/32" per revolution.
This is the Standard Flange Finish unless otherwise specified by the purchaser.
2. The Spiral Serrated Finish
The Spiral Serrated Finish is also a continuous groove like the standard stock finish in that the groove is generated with a 90° included angle "V" tool.  The Groove is 1/64″ deep and the feed is 1/32″ for all sizes.
3. The Concentric Serrated Finish
As the name suggests this surface finish is made up of concentric grooves.  A 90° included angle "V" tool is used and the grooves are 1/64″ deep and 1/32″ apart.
4. The Smooth Finish
The Smooth Finish can be produced using several different shaped tools. This finish shows no visible serrations and has a 63-125 AA. This finish in the past was commonly known as "Smooth Plane." This term, however, should be avoided as it can be confused with "flat faced" which applies to the flange facing and not to the gasket surface finish.
5. The Cold Water Finish
The Cold Water Finish is made by using a wide tool at high speed, it has a mirror like appearance and this finish is generally used without a gasket with a 32-62 AA.
Also note the gasket face of Pipe Flanges shall be judged by visual comparison with Ra Standards and not by instruments with a Stylus Tracer or Electronic Amplification per ANSI/ASME B46.1.
Contact Coastal Flange with any questions or to receive a quote tailored to your requirements.
Phone:  713-937-3333
Email: Sales@coastalflange.com